11 / 30
Shell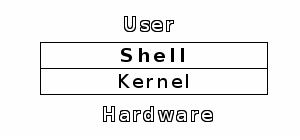 Text mode / command line (instructions are given line by line) user interface:
Command interpreter

To launch an application, type its name, and press Enter.
Many commands (small programs) to browse and edit files, control program execution, display system information, etc.

Programmable.
The shell is much more flexible and powerful than a graphical user interface.